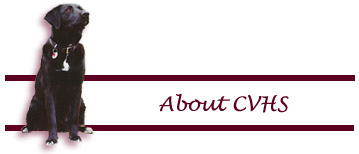 There is a place in Dover dedicated entirely to the care of several thousand unwanted animals per year, just like "Sugar" whose picture appears to the right. It's a daunting and almost impossible task for one organization. If you aren't familiar with Sugar's home, allow me to introduce you to the Cocheco Valley Humane Society, a group of tireless, dedicated people with one goal: ending the battle against animal abandonment and homelessness through awareness and pet placement.
The Cocheco Valley Humane Society, founded in 1984, is a non-profit organization dedicated solely to the care of homeless, abused, and neglected animals in Stafford County. The Society, located in the county complex on County Farm Road, cares for approximately 3,000 animals per year which are dropped off at its door for one reason or another. This monumental undertaking is accomplished with a handful of staff members, a great number of volunteers, and many generous donations from the community. The shelter receives no funds from the government and runs this large operation totally on fundrasiers and donations from the public.
CVHS (as they are known to friends and supporters) is not only devoted to caring for unwanted animals, but also spends a great deal of time educating the public on the proper care of companion animals. The shelter also adopts animals into new homes as well as providing outreach programs to the public. These programs include humane education classes for local schools and a program called "Visiting Companions" where trained animals are brought to nursing and retirement homes.
Thirty to forty percent of animals brought into the shelter are purebreds, originally purchased from breeders or pet stores. Much of the remaining percentage is the result of unwanted litters, a strong argument for one of the Society's main goals: spaying and neutering of every household pet. The following statistic gives a very meaningful illustration of how large the unwanted pet problem is in the United States. To place all the homeless animals, every person in the country would have to adopt five dogs and seven cats. This means a family of five would have to own 35 dogs and 49 cats. CVHS is only one of the many shelters faced with this staggering issue.
Besides purebreds and unwanted litters, CVHS receives many older pets, which have been turned in due to a variety of extenuating family circumstances. These are typically very loving animals who came from, and deserve, loving homes. At times, the Society fines it difficult to place a five or six year old pet; younger pets are more appealing and most people aren't aware that these animals can live up to another ten to fifteen years. To facilitate the adoption of these animals into older, loving and stable homes, the shelter has initiated a program called "Wisdom and Whiskers." Any approved senior may adopt a pet over five years of age for a nominal fee of $15, a real bargain for years of unconditional love.
The shelter also provides services to the community such as helping local police investigate reports of animals cruelty, abuse, and neglect. Although most reports are centered on lack of food and shelter, CVHS is often called in on cases of serious neglect and abuse. Two years ago, they took in eighteen dogs and a horse that were extremely dehydrated and near starvation. At about the same time, the shelter rescued a horse, which was 400 pounds underweight. (Horses normally weight around 600-800 pounds). And just recently, to help with part of the well-publicized abuse case in Berlin, NH involving 200 animals, the shelter cared for two of the dogs and three of the cats. It took a tremendous amount of resources and money to care for these animals and, as always, the shelter relied heavily on volunteers and donations.
With serious incidents such as the ones stated above, court cases are often involved. And along with court cases comes the need for animals to remain in custody anywhere from six months to an entire year. Since it is often impossible and undesirable to keep an animal caged for this amount of time, CVHS relies on foster homes. This requires a huge foster care network, not only to help in protective custody cases, but also to provide temporary homes for young and sick animals while they grow or heal. The shelter is always seeking new loving foster parents who have the time to devote to these special cases.
If you are interested in any CVHS program, or in helping to support the work of the Society through membership, donations, bequests, or volunteering, please look through our site or call (603) 749-5322 for more information. The Staff and Max would love to hear from you!
- Elizabeth Fourar-Laidi