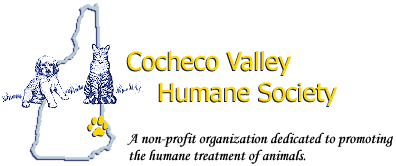 Becoming a Member of CVHS or Making a One-Time Donation



The Cocheco Valley Humane Society was established in 1984 as a non-proft organization dedicated to promoting the humane treatment of animals. CVHS is the only shelter serving Strafford County and over a decade later, serves 3,000 animals per year for which the shelter must provide food, shelter, and medical care without any state, or federal support. CVHS relies totally on donations and fundraising to care for these animals and provide outreach services to the community. These services include:
Pet Adoptions
Animal Cruelty Investigations
Animal Sensitivity Coursed
Humane Education
Pet Facilitated Therapy
Lost and Found Pet Service
Impound Service for Towns
Rabies Clinics
Pet ID Tagging
Resource for Pet Owners
Support for Animal Welfare Legislation
Volunteer Opportunities
Newsletter for Donors
If you would like to support the work of CVHS, please fill out the membership form. If you wish to make a one-time Donation, you may print out the form for that. Both forms can be brought in person to the shelter or sent to:
CVHS
262 County Farm Road
Dover, NH 03820


Want to find out how you can advertise on our site?

---
Questions or comments about CVHS should be directed to [email protected]
© 2000 Cocheco Valley Humane Society