Join CVHS at the Annual Crafters for Critters!

Angela Elliott a long time CVHS volunteer and this years Craft Fair Coordinator has been busy at work assisting Mary Lou Hendrick, our Development Coordinator, with the organization of this year's Annual Crafters for Critters.

On November 29th 2003, crafters and patrons alike will be crowding the function hall below the Holy Trinity Church in Somersworth NH.

With the holiday music softly setting the spirit and the sweet scents of the homemade soups and snacks being sold at the bake sale this is a great way to officially kick off the holiday season!

Crafters from all over the state will be selling their wares at this wonderful event in support of the homeless pets of CVHS.

If you are interested in setting up a table yourself or would like to volunteer at Crafters for Critters please call Juliette at the shelter at 603-749-5322.

So stop by to stroll among the tables, start your

shopping or just to soak in the festive Holiday spirit.
Donations Needed
For 11-29-03:


*Baked goods
*Soups
*Raffle/Retail Items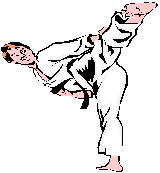 As an ongoing feature of our new monthly volunteer newsletter we are going to include a Volunteer of the Month. This section will tell everyone a little bit about a certain volunteer that has shown exemplary support and dedication above & beyond the call of duty. Nominations will be accepted by one & all.
Meet Jordon Caux*, a 6 year old kind kid. Jordon has been a student at the Ocasio's True Martial Arts Leadership Academy for almost 2 years and is now going for his junior black belt.
Ocasio's requires students going for a black belt to complete 20 hours of community service and
Jordon chose to give his time to the Cocheco Valley Humane Society.

This creative, kind and generous young man wrote a letter to his neighbors explaining his need for service time and he told them in the letter a little about himself and the story of how his family acquired their three dogs, two of which are rescue dogs. Lettiong them all know why he felt it was so important to help the homeless animals.

So onto the letter he added a short wish list of items we could use, supplied a bag in case of rain, requested all items be left in an appropriate spot and set up a time in which he could return to the houses and collect the items.

And that he did. Jordon came to the shelter on the 1st of November and dropped off his donations. He had collected old towels and blankets, leashes, dog & cat food, toys and much more. Jordon is an absolute delight and we at CVHS want to say Thank you, to one truly kind kid!

* We would also like to apologize to Jordon for having to use clip art in place of his photo, we were unable to reach his parents for permission in time for release of this newsletter.
Children: Big Support in
Small Packages!

In the past months there have been more and more kids wanting to help and what Jordon did for CVHS is just one example of how they can. Food drives, collecting cans, penny collections, car washes, dog washes, litter drives and bake sales are just a few more to consider.

Some children have even chosen to ask for wish list

items at their own birthday parties forgoing gifts for themselves. This has become more and more popular and is a great alternative to the every day party. It can be educational and fun and a great way to install a generous caring attitude at a young age.

Groups of children, girl & boy scouts, brownies, 4-H clubs or just a group of friends wanting something to do, kids or their parents are always welcome to call the shelter to set up a tour through the facility so the children can see

how important animal welfare is. If you would like to learn more about how your child can help, how to set up a birthday party or tour please call Juliette at the shelter, 603-749-5322.

Volunteer Phone,
E-mail and Mailing
List Update

We have been having some trouble in the administrative offices of late with the volunteer mailing list both postal and e-
mail as well as many of the phone numbers.

So we need your help to get it all back up to date. If you have e-mail, have moved or even if you haven't, just to verify that we have your correct info please drop a line via e-mail, snail mail or give a call to the shelter attention to the Volunteer Coordinator: Juliette.

Shelter Update: Upper
Respiratory Infection
(URI)

Lately the shelter has had an outbreak of URI. All volunteers should know what URI is, how it is transmitted and how they can help stop the spread of the disease.

To eliminate URI we have decrease the number of cats that are coming into the facility. To give us a chance to clean all cat rooms. Those cats that have contracted URI have been medicated and once recovered are placed up for adoption.

What is URI?

Feline upper respiratory infection, or URI as it is commonly known,

is a highly contagious disease affecting the nasal passages and sinuses of cats and kittens. It is common in animal shelters. Almost all cases of feline URI are caused by infection with one of two viruses; feline herpesvirus (also know as feline rhinotrachetis virus) and feline calicivirus. These two viruses are "species specific," meaning they infect only cats and kittens, not dogs or humans.

How is URI transmitted?

Feline URI is transferred between cats by fluid discharge
from the mouths and noses of infected cats, similar to the transfer of flue virus between humans. Cats can shed the virus through the air by sneezing, coughing or breathing; or by direct contact with cages, toys, food bowls, even the hands and cloths of people handling them. Cats who have previously had the disease are often "silent carriers" meaning they shed the virus and can infect other cats without showing symptoms of the disease themselves.
How you can HELP
You can help stop the spread of URI by following the procedures below:
Make sure all the cages are scrubbed removing all bodily fluids from the inside of the cage as well as the cage doors. You can spray disinfectant in the cage, let it sit for 5 minutes and then scrub the cage with an abrasive sponge. The walls and windows must be cleaned everyday.
If you clean the Front Isolation room or come in contact with a cat that has URI, DO NOT go into the adoption or incoming rooms. Please wear a smock (put in wash after use) and wash your hands after handling cats with URI.
Please do not let cats that are loose on the floor into the white cabinet where the cat blankets are kept. If a cat that has URI sneezes in the cabinet all the blankets are now contaminated and must be washed again.
We are in the process of changing cleaning procedures. Please ask a staff member if any changes have been made. With everyone's help we can get rid of URI.
Thank you for all your help