Servapalooza at CVHS!
On October 2nd sixty volunteers including employees and business partners of The Timberland Company swarmed the grounds of the Cocheco Valley Humane Society shortly after sunrise to donate over 400 hours to the shelter. This was just a small part out of a 31,000 hour worldwide effort during Servapalooza, the company's sixth annual one-of-a-kind community service outing.
"It's about the work ethic we all seem to share", said a volunteer and 17-year employee, who started working for Timberland well before Servapalooza began in 1997. "We look forward to Servapalooza each year, because it gives us the chance to be present in each community where we live and work as a team- plus, it's a lot of fun", she added.
"It's a real high energy group that's here today," commented Michele Hooper, Global Procurement Manager for Timberland and recent CVHS adoptive parent. Hooper served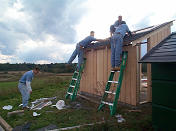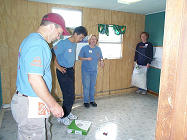 as a Servapalooza Project Site Manager for CVHS with Joann Van Wie, another long time Timberland employee.

Many of the Servapalooza volunteers had already served on a team of 10 back in August when they began the first wave of projects at the shelter, which included reinforcing and painting the office stairs, weeding and replanting the flower garden outside the admin offices, and assembling a new aluminum shed that had been donated to the shelter by a family member of one of our employees.

The second wave of projects consisted of adhering fiberglass backing and steel coverings to improve the durability of the dog kennels, constructing rabbit runs to allow our furry little friends some outdoor exercise, as well as assembling a recycling shed from scratch, painting the facility, installing new linoleum flooring, bagging aluminum cans and replacing a worn-out barn door and
clapboards - so worn out in fact that the door was almost literally falling off the hinges!

"I'm really just glad to be a part of it. Timberland calls up it's vendors and tells them to get ready to work," said Bernadette Leahy of Beverly, Mass who works for American Express One and participated in Servapalooza as part of Timberland's vendor partnering program.

Leahy worked on the flooring project with several Timberland employees as well as planting chrysanthemums in the garden with a partnering representative from American Airlines. Representatives from Staples, Ikon Office Products, Standard Register, Adecco, and Iron Mountain also participated.

Lee Schuette, who works as a Designer of Advanced Concepts, and who also has several of his personal design works in the permanent collection of the Smithsonian, put his design and carpentry skills to work with several other volunteers planning and constructing

much needed rabbit runs for the many long-eared friends that CVHS cares for. This was a day for people and pals of all shapes
and sizes to lend a helping hand to CVHS. Schuette also shared the rabbit run project with his best friend, Forest, an 11 year-old Golden Retriever, who wagged with approval from the back of Schuette's pick-up truck. Another volunteer arrived with husband and son in tow.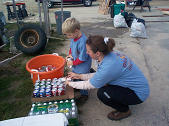 The late afternoon cold snap, wind, and rain didn't dampen the team's enthusiasm. "We're going to take the rabbit runs back to the workshop so those who couldn't be here today can finish them. Then, we'll be back for another visit", added Hooper.

"We were so happy and excited to be chosen as a project site this year." commented Elizabeth Fourar-Laidi, Executive Director for CVHS. "We rely almost exclusively on volunteers to help with the upkeep of the building and grounds and it can be difficult to get big projects done. Servapalooza has been a dream come true and has really made a difference to our operation and the animals we care for at the shelter."

CVHS is grateful to the many businesses that also helped to make a difference for homeless pets with in-kind donations of food for the volunteers. Participating organizations included Domino's Pizza, Dover High School Culinary Arts Department, Smiley's Discount Beverages, Pizza Hut, Papa Gino's, Shaw's Supermarkets and Care Pharmacy of Dover.

Timberland is committed to "Doing Well and Doing Good" by delivering world class
products, making a difference in the world community-at-large, and we at CVHS think they are doing a great job! Thank you Timberland!
As an ongoing feature of our new monthly volunteer newsletter we include a Volunteer of the Month. This section will tell everyone a little bit about a certain volunteer that has shown exemplary support and dedication above & beyond the call of duty. Nominations will be accepted by one & all.
Donna Beaudoin: One of our most dedicated!
Donna Beaudoin has been a resident of Rochester NH all her life. She is a graduate from the University of New Hampshire and is now an employee of Liberty Mutual in Dover.
She is the proud owner of 2 dogs and 4 cats, including one three legged cat. All but one is a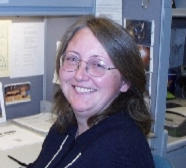 former CVHS resident.
Donna has been a volunteer for the Cocheco Valley Humane Society since 1995, when we began to record volunteers in our data base.
Donna is almost always the first to sign up for any and almost all events and fundraisers the shelter runs. You will often see Donna at our events from early morning to the end of the day. She is always there rain or
shine; just ask anyone who may have attended this year's Apple Harvest Day!

So today and everyday, we the staff of CVHS thank you Donna for all your dedication and your support throughout the years and we hope for many more to come.

Event Volunteers Needed!

With the Holiday season fast approaching so are many of the CVHS Holiday events, such as Crafters for Critters, a giant craft sale held in Somersworth; Holiday Ornament Sales at the JCPenny store in the Fox Run Mall in Newington; and Santa and Pet Photos at Pet Quarters also in Newington.

If anyone reading this has attended any of these events in the past, you know how much fun they can be. We are always in need of volunteers to assist at events, now more than ever.

When most of us think of the Holiday season, most people think of jack o'lanterns and trick or treating, big turkey dinners with all the fixings, cookies and candy canes, Hanukkah, Santa Claus or Christmas trees. It is also a time to think of the animals. These events are a big help to them. We raise several thousand dollars at these events and as we all know every single dollar goes a long way to help the residents of CVHS. So I would like to take a moment now, to call upon your generous holiday spirit and ask you for your assistance this Holiday Season.

If you are interested in helping us out please call Juliette at the shelter at 603-749-5322, or you can e-mail Juliette at [email protected]. Thank you.