Identify Your Pet For Life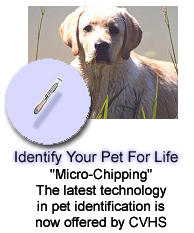 The Cocheco Valley Humane Society can identify your pet for life. All it takes is a few minutes to place a tiny microchip containing your pet's vital information under the skin of your pet's neck. It is about the size of a grain of rice.
Never worry about your pet losing a collar again. Any veterinarian or shelter will be able to easily identify your pet through a nationwide registry. Your pet can be identified and returned to you.
Micro-chipping normally costs between $50-$100 per pet. You can have your best friend permanently identified at Cocheco Valley Humane Society for the low cost of $30.00 per pet and that includes the cost of registration!
Give yourself peace of mind and protect your pet today, Contact CVHS for an appointment or for more information at 603-749-5322.
The Cocheco Valley Humane Society is pleased to offer a pet food assistance program for people who are unable to meet the nutritional needs for their dog or cat because of financial burden.

We understand that not having enough money to feed yourself, let alone your pets, can create a lot of anxiety. Priorities must be made and often on the list of a family's priorities, animals are low on the list.

Trying times can be temporary and with a little assistance and time to think things through, a pet owner can often find a way to make things work and keep their pet in their home.

Keeping animals in their own homes benefits the owner, the animals and the Cocheco Valley Humane Society. The owner doesn't have to give up their pets, who often are very important in their lives. The pet doesn't have to go through a stressful move and be placed in strange surroundings, and the Cocheco Valley Humane Society has more room for other pets in need.

Please call the Cocheco Valley Humane Society for more information: at (603) 749-5322.
The Cocheco Valley Humane Society is looking for classrooms to foster small animals. The goal of this program is to provide temporary or permanent homes to small animals that are up for adoption at the shelter. Even further, this program will help children understand the responsibility of being a pet owner without having to go out and purchase an animal. As a classroom, you are giving an animal a loving environment without contributing to the pet trade. If the animals has not been adopted out by the end of the school year it will be returned to the Cocheco Valley Humane Society.

If you're interested and would like more information, please call (603) 749-5322.
For more information about any of the CVHS Community Programs, please call or email.