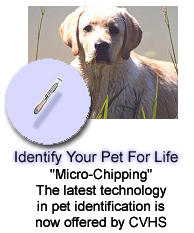 The Cocheco Valley Humane Society can identify your pet for life. All it takes is a few minutes to place a tiny microchip containing your pet's vital information under the skin of your pet's neck. It is about the size of a grain of rice.
Never worry about your pet losing a collar again. Any veterinarian or shelter will be able to easily identify your pet through a nationwide registry. Your pet can be identified and returned to you.
Micro-chipping normally costs between $50-$100 per pet. You can have your best friend permanently identified at Cocheco Valley Humane Society for the low cost of $30.00 per pet and that includes the cost of registration!
Give yourself peace of mind and protect your pet today, Contact CVHS for an appointment or for more information at 603-749-5322.