March 2004
Microchip Clinic at PetCo in Newington, Saturday March 27, 11AM- 2 PM.
Posted Sunday, March 21, 2004 by cvhs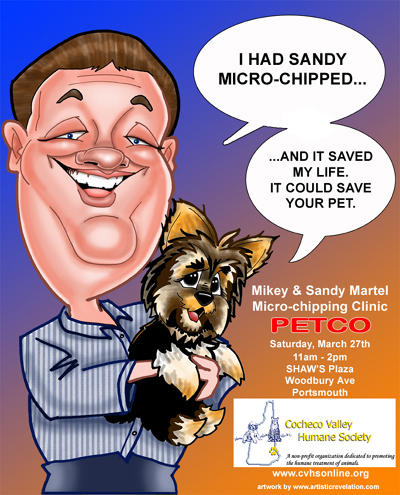 Microchip Clinic at PetCo in Newington, Sat. March 27, 11AM-2 PM.
Low Cost Rabies Clinic at Cocheco Valley Humane Society 2pm-5pm.
The Cocheco Valley Humane Society can identify your pet for life. All it takes is a few minutes to place a tiny microchip containing your pet's vital information under the skin of your pet's neck. It is about the size of a grain of rice.
Never worry about your pet losing a collar again. Any veterinarian or shelter will be able to easily identify your pet through a nationwide registry. Your pet can be identified and returned to you.
Micro-chipping normally costs between $50-$100 per pet. You can have your best friend permanently identified at Cocheco Valley Humane Society for the low cost of $25.00 per pet and that includes the cost of registration!
Give yourself peace of mind and protect your pet today, Contact CVHS for an appointment or for more information at 603-749-5322.
Rabbit Education Day April 3rd, 2004 At Petco
Posted Thursday, March 18, 2004 by cvhs
Rabbit Education Day
Saturday April 3rd, 2004 at Petco in Portsmouth
Did you know that rabbits are the third most surrendered pets at animal shelters?
Cocheco Valley Humane Society has rabbits awaiting adoption into loving indoor homes. Our long-eared friends thrive with daily exercise, a diet of fresh hay, produce, and high-fiber pellets. They are social, loving pets, litter-train easily, and may live as long as a dog or a cat.
Many homeless rabbits began life only a year ago as Easter pets or were "impulse buys" from a pet store. Rabbits may not be the best choice for a child's pet as they become frightened when held. Children enjoy something they can carry and cuddle, making stuffed animals a great alternative.
CVHS asks that you resist that cute little bunny at the pet store. Make adoption your first option and first give some thought to what a rabbit's life would be like in your schedule.
Come to Rabbit Education Day on Saturday April 3 from 10-3 at Petco in Portsmouth. CVHS will be there to help you make an informed decision before adopting. For more information, click on the Easter and Bunnies Don't Mix icon at cvhsonline.org or on rabbit.org or call the shelter at (603) 749-5322. When you adopt a rabbit from CVHS, you not only make a friend for life - you save a life.
Learn more about the needs of these warm-hearted creatures. Visit www.aspca.org, www.petfinder.com, and www.rabbit.org for a host of bunny facts regarding proper nutrition, veterinary care, spaying and neutering, grooming and play.
To learn about rabbit myths click here.
DR. OíCONNELLíS PAINCARE CENTERS MATCHING GIFT FOR HOMELESS PETS AT CVHS
Posted Thursday, March 18, 2004 by cvhs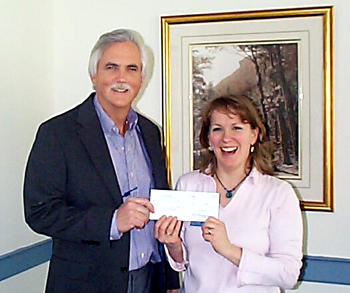 Dr. Michael J. O'Connell of Dr. O'Connell's PainCare Centers gives matching
gift check for $5000 to CVHS Development Coordinator, Mary Lou Hendrick




Cocheco Valley Humane Society would like to thank Michael O'Connell, MD as well as all the individual and business donors throughout the community for responding so enthusiastically to the doctor's Christmas matching gift offer for homeless pets at CVHS.




For the second year in a row, Dr. O'Connell's PainCare Centers, Inc. in Somersworth issued a challenge to match all donations received by the shelter through December 25, 2003, dollar for dollar, up to a total of $5000. Upon receiving the fabulous news, CVHS spread the word announcing the matching gift in the newspapers, over the shelter's website, and through a holiday mailing to existing supporters.




Your response was phenomenal and it was especially heartwarming to be remembered during such a busy holiday season. Thanks to the doctor's inspiring matching gift, the dedication of his staff, and all who responded with a donation, CVHS received a grand total of $30,276 in just over a month! That's not all: Your generous gifts continued to help CVHS care for the animals well into January. We are truly grateful for your kindness and thank Dr. O'Connell and all of those who responded for the wonderful start you provided the animals for 2004, CVHS' 20th anniversary year!




Please accept our heartfelt thanks on behalf of the animals that were here over the holidays, for making their adoptions into loving new homes a dream come true.



~~~~~~~~~~~~~~~~~~~~~~~~
7th Annual Creature Comforts Dessert Tasting a Huge Success
Posted Saturday, March 6, 2004 by cvhs
The 7th Annual Creature Conforts Dessert Tasting held at the Governor's Inn on February 22nd, was a tremendous success. It was a bigger hit than anticipated thanks to the hard work of staff and volunteeers! CVHS raised $4493 between ticket sales, raffle, new membership and donations - a best ever for this event!

Hey, THERE'S MORE:
In a few weeks, Sam's Club of Seabrook will be presenting CVHS with an additional $1000 matching funds gift toward the tasting! CVHS is thrilled as this is the 4th year in a row they have given this gift to us for "bulking up" the tasting income.

Thank you again everyone, for sharing your time, talent, and gifts. Your effort for the event and love for the animals REALLY is appreciated by everyone and every animal at CVHS.