June 2004
Walk-A-Thon benefits pals with paws and claws
Posted Monday, June 14, 2004 by cvhs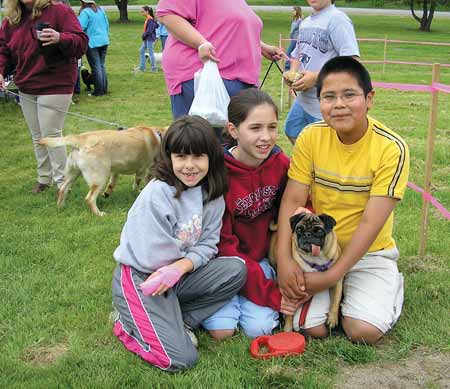 Photo by Kristin Sawyer



Reprinted by Permission of the Dover Community News. writer/photographer Kristin Sawyer.



By Kristin Sawyer



On Sunday, June 6, more than 250 people, and even more canines, participated in the 16th Cocheco Valley Humane Societyís Walk-A-Doggie-Thon at the Strafford County Complex. The event raised funds to go toward the care of the expected 2,500 animals who will be at the shelter this year. CVHS provides shelter, food, preventative care against insects, vaccinations against disease, baths, and medical care that includes spaying and neutering and sometimes other treatments at local veterinary clinics.



According to Elizabeth Fourar-Alidi, CVHS executive director, the Walk-A-Doggie-Thon is the humane societyís biggest fund-raiser of the year. When asked how much the event raised, she responded, Although our totals are not fully complete yet, our proceeds so far have reached about $24,000. That number does not include any sponsorships or in-kind donations, which we hope will take us to or over $30,000.



One of the people who took the task of fund-raising and promoting the cause of the event to heart is Katie Dyer, 12 years old, from Berwick, Maine. According to Katieís mother, Amanda Dyer, Katie is a true animal lover. She saw the flyer for the event last week and spent all of her time trying to earn money for the shelter. She cleaned, baby-sat, asked friends and family for contributions, gave money from her own savings, and even cleaned out all of the family cars for spare change. She worked really hard and donated $52. Weíre really proud of her.



Katie, who eventually wants to work in an animal shelter, comes from a family of animal lovers and helpers. Her grandmother, Pat Seavey, also attended the event.



The whole family are animal lovers, she said. Weíve always gotten all of our animals from shelters, and we have quite an assortment of dogs, including my own, Venus, who is 17 years old now. Every dog Iíve had Iíve gotten from a shelter. This is such a good event for such a good cause.



More than simply a walk-a-thon, the event included many interesting and informative demonstrations, information and vendor booths, clinics, and fun contests. Doggie massages were offered, nail-clipping techniques were shown, microchips were provided, and behavioral training was exhibited. Some of the many vendors present included A Little Black Dog Daycare, Straight from the Heart Pet Sitting Service, Nails to Tails, Litten Norsk Coats and Jackets, Samís Treats, K-9 Controls, Pampered Chef, and Cool Pools. The Rotary Club of Dover sold drinks and snacks and donated the proceeds to CVHS.



The members of the WOKQ Morning Waking Crew hosted entertaining contests for the dogs to compete in: Musical Sit, Best Trick, Biggest Beggar, and Most Vocal. After winners were announced, the Doggie Prince and Princess and the Royal Family were announced. Duncan, a former shelter puppy, was crowned Prince, and Madeleine, a toy poodle with a sense of flair and style was crowned Princess. The Royal Family was a beautiful trio of golden retrievers.



Following the awards ceremony, many people and their dogs participated in the Blessing of the Animals and the short Dog Walk and Pet Memorial Walk along the Cathy Schiro OíBrien Trail by the Cochecho River. The Pet Memorial Walk was added to commemorate pets who have touched the lives of their owners or others, and several people walked with pictures of the pets they had lost.



Mary Lou Hendrick, CVHS development coordinator, canít thank the community enough for their time and donations.



Itís people of all ages throughout this community whoíve gone out and collected pledges from individuals and those who are responding to them who are the backbone of this fund-raiser, she said. Every little bit adds up to help in a very meaningful way for the animals. CVHS is so grateful to all those people who took the time to ask on behalf of homeless pets. Itís really a team effort throughout Strafford County and even beyond that makes this fund-raiser work.



Donations are always welcome and can be mailed to the Cocheco Valley Humane Society at 262 County Farm Road, Dover, NH 03820-6043. For information on volunteer opportunities, call 742-3519.
June is Adopt-a-Cat Month
Posted Tuesday, June 8, 2004 by cvhs

CVHS asks you to join us in celebrating Adopt-a-Cat Month. Cats are the animal world's reminder to enjoy life. Whether lounging in a patch of sun or quietly exploring a grassy field, they seem to take pleasure in the little things.





The vast majority of pets up for adoption at CVHS are cats. Our feline friends need all the help we can give. Besides adoption there are many ways you can help CVHS in their efforts. For more information on that please click here.





Further information on this month long celebration of the cat can be obtained at these links:






Or you could simply take home a furry bundle of joy by clicking here.



If you adopt a cat at the Cocheco Valley Humane Society (CVHS) in June CVHS will give you:



$5.00 OFF WHEN YOU ADOPT A KITTEN

$10.00 OFF WHEN YOU ADOPT AN ADULT CAT

FREE CARDBOARD CAT CARRIER

1ST FREE VET VISIT FOR NH RESIDENTS

FREE FELINE LUEKEMIA TEST AND DISTEMPER SHOT

FREE CAT TOY

FREE COLLAR AND ID TAG

FREE 4LB BAG OF SCIENCE DIET CAT/KITTEN FOOD

A COUPON BOOKLET WORTH $130 OFF MERCHANDISE AT PETCO.

2 MONTHS FREE SHELTER CARE PET INSURANCE

THE OPPORTUNITY TO GET YOUR CAT MICROCHIPPED FOR ONLY$25.00

And FREE SUPPORT & BEHAVIORAL COUNSELING FOR YOU AND YOUR PET