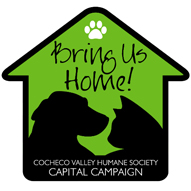 Bring Us Home – Capital Campaign
We're so close to breaking ground for the new CVHS shelter. We're in the final stages of raising the funds and have been working tirelessly to get the shovels in the ground. There are so many to thank for the success of this campaign, and to all who have donated, your dedication and support through this process has been tremendous.
Commitment
We invite you to learn more about the "Bring Us Home" capital campaign and encourage anyone looking to get involved or contribute to this important project to contact us. We are appreciative of the support from this great community and look forward to building a shelter that will serve as a community resource for many years to come.
Please use the form to the right for general donations. If you are interested in a naming opportunity, please download the PDFs below and contact us.
Capital Campaign Sponsors