B - I - N - G - O

Every Saturday night, the Bingo game at Seacoast Bingo in Somersworth benefits the animals at CVHS.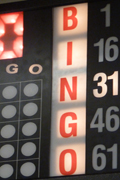 This is not the Bingo you remember from your childhood. Open to players 18 and up, Bingo is more popular than ever. Games start out easy with a traditional, or "hardway Bingo", pattern then progress to more difficult designs such as round robins, stamps, and check marks. The final games of the night, with jackpots ranging in the thousands, require players to cover all their spaces within a designated number of balls. Although the games may seem confusing to first time players, the many expert CVHS volunteers are always on hand to turn even the most novice of players into experts overnight.

For just $20, players can purchase a package of Bingo cards that will last them the entire evening. For an additional $1 per sheet of three Bingo cards, players can join in the final jackpot games where the winnings often reach the thousands.

Now, with the addition of computers, it's easier than ever for new players to get involved in Bingo. For a small fee, players can rent a handheld computer that takes all the work out of Bingo. As the numbers are called, the computer will automatically play the game for you and alert you if you've won Bingo. Not only does this alleviate the stress of learning the game for new players, it allows more seasoned players to maintain two games at once – one on paper and one electronic!

Throughout the night, door prizes such as gas cards, daubers, Bingo gift certificates, and even candy are passed out the players. Additional prizes are won through fifty-cent ticket games such as Texas Hold 'Em, Pick a Pony, Saddle Up, Bunny Buddies, and Long Shot. The largest Long Shot prize was awarded at a night of CVHS Bingo in 2008 when one lucky player was awarded $25,000. Players are also encouraged to support CVHS by bringing donations with them to the Bingo hall. Each month, all donors are entered to win a free $20 package of Bingo cards.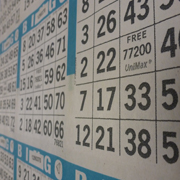 Thanks to a dedicated group of volunteers and players, Bingo one of the largest fundraisers for the homeless animals at Cocheco Valley Humane Society. From selling Bingo packages to calling numbers, CVHS volunteers are involved in all aspects of the weekly game.

Grab your friends and support the animals at CVHS with a fun-filled Saturday night at Bingo!

Seacoast Bingo is located at 451 High Street in Somersworth, NH. Ticket sales begin at 5pm with the game lasting from 7pm-10:30pm. Volunteers are also needed each Saturday night to help sell tickets and pay winners. For more information, www.seacoastbingo.org.


Bingo Vocabulary:
Learning some basic Bingo terms will help make your first experience playing the game a little easier!

Coverall: A pattern that requires players to cover every space on their card in order to win.
Dauber: An ink-filled bottle with a foam tip used to mark called numbers on a Bingo card
Hardway Bingo: Bingo in a straight line without the use of the center free space
Jackpot: Awarded for completing a difficult pattern (usually a coverall) within a specified number of balls
Progressive Jackpot: Same as a jackpot, except a progressive jackpot gets bigger each week until someone wins it
Wild Number: When a game involves a wild number, the first ball called determines what that wild number will be. If the number 32 is drawn, all numbers ending in 2 can be marked off, as well.
Round Robin: A Bingo pattern that requires players to cover all the spaces on the outer rim of the card.