Animal Wellness Fund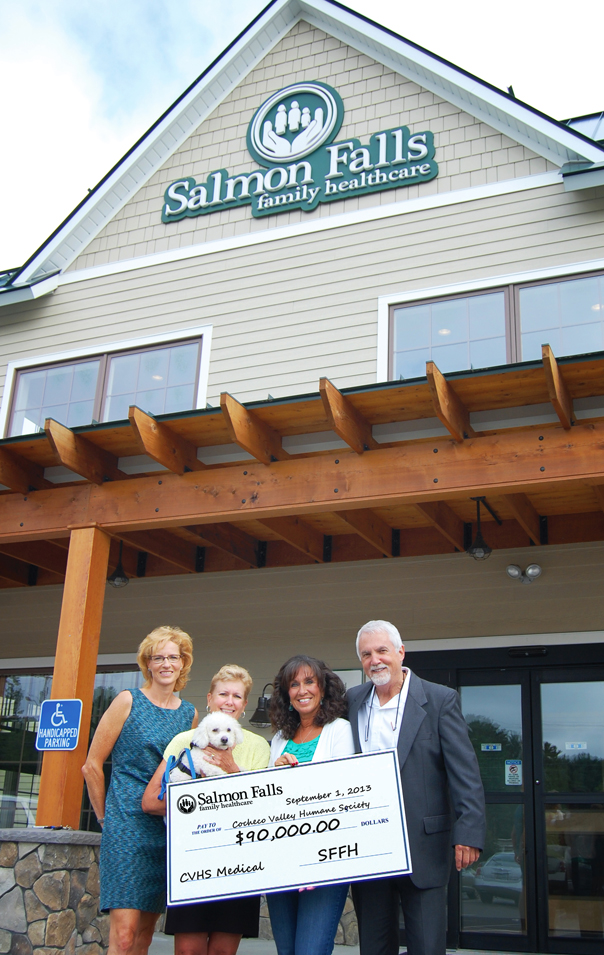 The staff and directors of Cocheco Valley Humane Society are excited to announce a new partnership with Salmon Falls Family Healthcare to establish an Animal Wellness Fund that will be dedicated to the medical needs and care of the 2,300 animals CVHS serves each year.
With the extremely generous support of CEO Dr. Michael O'Connell, owner of Salmon Falls and also the 11 PainCare facilities throughout NH, a monthly contribution of $7,500 will be made to the fund to cover approximately half of the costs associated with providing quality care for the animals.
The cost of veterinary supplies and services continues to increase. Every animal at CVHS receives thorough medical exams by the shelter's team of veterinarians and necessary vaccinations and wellness treatments. In addition, 100 percent of the animals adopted by CVHS are spayed or neutered.
"The average cost to care for an animal can range from $100 for a basic medical exam, vaccinations and spay/neuter services to well over $1,000 depending on the medical condition of the animal" according to CVHS Executive Director Leslie Heindl. "Inability to pay for animal medical treatments is one of the primary reasons for animal surrender and the economic downturn has resulted in more animals being surrendered with critical medical issues than ever before. With this generous support from Dr. Michael O'Connell, we are able to more easily absorb the increased costs associated with caring for these animals. We all thank him from the bottom of our hearts. He is really improving the quality of life for all of the animals at CVHS," she added.
Because of his compassion for animals, O'Connell has adopted countless pets from CVHS over the years, and has also donated $20,000 annually as part of the holiday match program. His selflessness cannot be matched, however, when it comes to CVHS.
"On behalf of the dedicated staff at Salmon Falls Family Healthcare, I am proud to launch this new Animal Wellness Fund. I support the important work and mission of CVHS and am pleased to have an opportunity to directly impact the shelter's ability to continue reinforcing its mission in the community. CVHS still needs more help to cover medical costs, so I would encourage other businesses to join me in supporting this important initiative as well," O'Connell noted.
Salmon Falls Family Healthcare is the oldest independent family practice in the area and employs over 24 medical staff. Salmon Falls Family Healthcare utilizes state-of-the-art electronic medical records, in-house billing and scheduling, and has its own high complexity CLIA-compliant lab facility providing shorter wait times, convenience, and consistency of care. For more information contact 692-4018 or visit www.SalmonFallsMD.com.
For more than twenty-five years, CVHS has provided quality, compassionate care and shelter to its animals, in partnership with educating the community with respect to animal treatment and welfare.Those interested in learning more about contributing to the Animal Wellness Fund should contact Leslie Heindl at 603-749-5322.