Follow Our Progress Towards a New Home


Now through the end of October, all donations will be matched dollar for dollar up to $50,000 thanks to a generous donation from Kennebunk Savings Bank!
To make an online donation to Cocheco Valley Humane Society's Bring Us Home campaign, please click on the "donate now" button below. You will be able to specify the amount you would like to donate.
---
---
---
Learn more about the Bring Us Home campaign!
Special thanks to Aaron Cortina for all his hard work on the Bring Us Home video!
---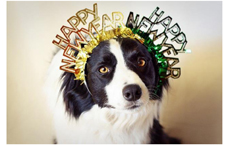 As we say farewell to 2014 and reflect on our early accomplishments on the Bring Us Home Campaign, we recognize that we have a lot to be grateful for and an awful lot to be proud of! 2014 – after all – saw the kick-off of our long-awaited capital campaign to build a new facility for CVHS!! For those of you who have visited us, you know how much and how long we've needed this!
As part of our preparation for the campaign this year, we worked with Stewart Architects to design our new facility to align with best practices in shelter management and create a space for greater community engagement and activity – two elements our current facility, a 100-year old piggery, lacks. We also hired Opus Advisors this spring as campaign counsel and have created a Case for Support to share our plans and the need for this project to happen. We have also identified naming opportunities in the new shelter as a way to recognize you – our community – for your essential support!
This past year we also focused on strengthening our internal operations to support our enhanced and expanded vision of serving our community and the animals we care for as they transition through our shelter to their forever homes. To that end, we hired Operations Manager Suzanne Mello, who lead us through state financial filings and worked with our auditors to complete our first internal audit. These steps have been invaluable to the organization and are reflective of the overall professionalization of the organization.
In 2015 we look forward to holding a lease signing ceremony at the site of our new shelter, meeting with many of you in the community, and sharing information about the campaign and our continued progress toward our $3.4 million goal. We hope that by 2016 we are ringing in the New Year in a new shelter. We can only accomplish this if you stand with us and lend your support!
In addition to financial support, we are always looking for dedicated volunteers to support the Bring Us Home Campaign. If you are interested in becoming involved please contact CVHS Executive Director, Leslie Heindl at 603-749-5322.
---

There are a number of community events taking place this month and next to benefit the "Bring Us Home" campaign. We look forward to seeing you out in the community and updating you on our progress!
Haun
ted Overload at
DeMeritt
Hill Farm is running now through November
1st
and 10% of all proceeds will be donated to
CVHS!
We are so grateful to Haunted Overload for their continued support! You can get tickets to Haunted Overload here.
Margarita's Restaurant has graciously offered to host a
Noche Mexicana
fundraiser for
CVHS
on Thursday November
13th
. Margarita's will donate 15% of all food and drink sales for lunch and dinner to the campaign! Guests may visit the Portsmouth, Exeter, or Dover locations but must present a copy of this flyer in order to be counted.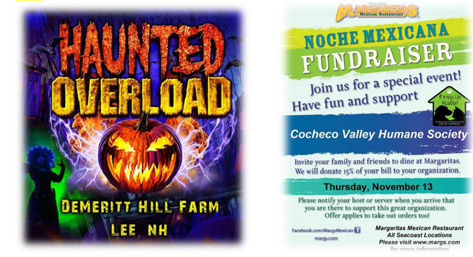 The campaign is continuing to move forward. Here are just a few highlights from our work last month:
* CVHS hosted its Totally Rad for Rescue 30th Anniversary Gala on September 12th at the Portsmouth Harbor Events Center. More than 200 people attended the 80's themed party, danced to the music of Gazpacho, and bid and won on some exciting auction prizes. We had a number of generous sponsors including our top sponsor, Seacoast Dream Dentistry, Kennebunk Savings Bank, Federal Savings Bank, C&J Bus Lines, D.F. Richard Energy, and Comcast.
* The Campaign video debuted at the Totally Rad for Rescue event. It was very well received by all and can be viewed here.
* The County Commissioners and CVHS have reached an agreement on the lease for our new home! This 6.5-acre parcel of land is located on the County Complex and will be the site of our new shelter. We could not have reached this point without the support of the community and the Commissioners. Thank you! We will be holding an official lease signing in the near future – stay tuned!
We are always looking for dedicated volunteers to support the campaign. If you are interested in becoming involved, please contact CVHS Executive Director Leslie Heindl at 603-749-5322.
---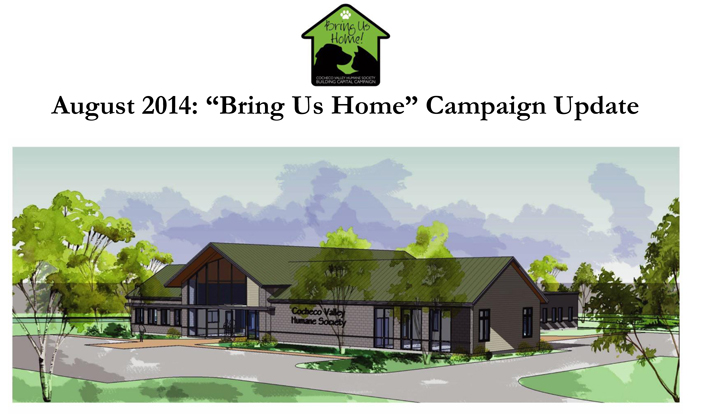 August has been a very busy month for CVHS and the Capital Campaign Committee! This month we finalized our Campaign materials and are happy to share renderings of the new shelter (see above)! We also finalized the Campaign's Case for Support which outlines the work CVHS currently does and the people we serve, as well as the strong need for this campaign, and the impact and opportunity that a new shelter will create for us and the community! You can read through the entire Case for Support here.
This month we also finalized the naming gift opportunities available in the new shelter. Making a naming gift is a wonderful way to support CVHS's mission while also commemorating the life and memory of a beloved animal, family member, or friend. You can explore the naming opportunities and the floor plan for the new building here! If you are interested in making a naming gift please contact Executive Director, Leslie Heindl at 603-749-5322.
Lastly, we have spent some time this month gearing up for the 30th Anniversary "Totally Rad for Rescue" Gala on September 12th! We will be debuting our new Campaign video which features Campaign Co-Chairs Karen Zaramba and Kelly Glennon, CVHS Founder, County Commissioner George Maglaras, CVHS Veterinarian of Record, Dr. Sarah Proctor, long-time CVHS volunteer, Herm Stolzenburg, and CVHS supporter and local business owner, Lisa Cassacio. We hope you will be there to see it! (You can purchase tickets here.)

---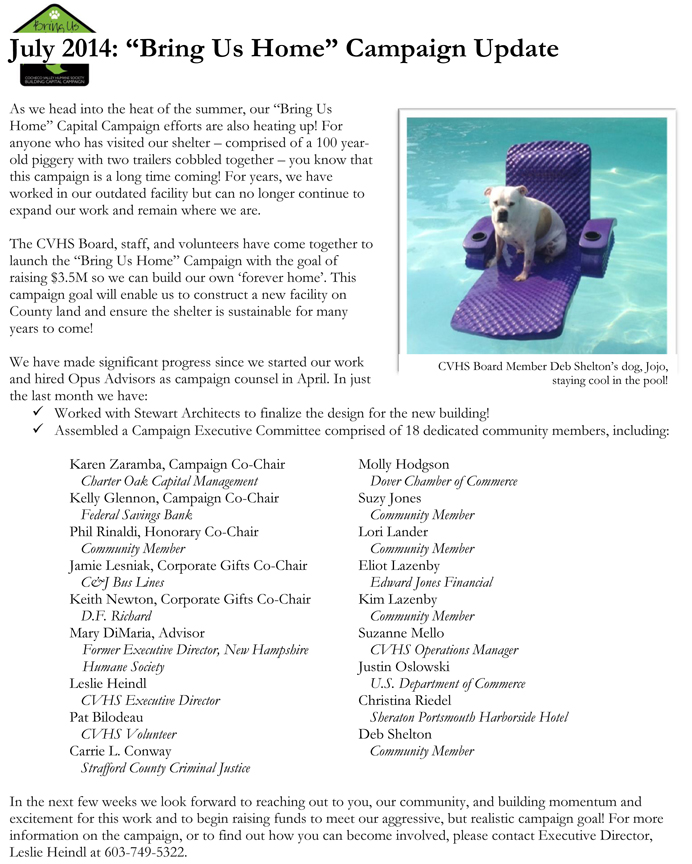 ---
* May 2014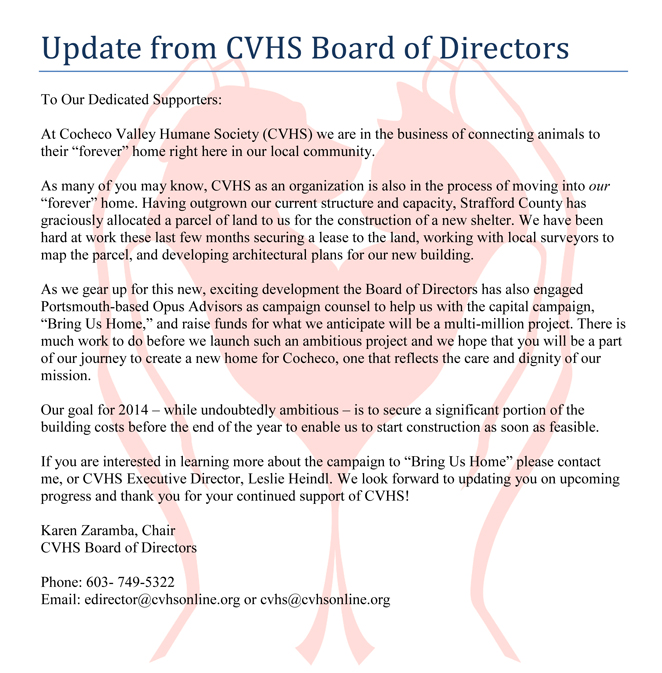 * January 2014 - County Commissioners approve the new site, allowing CVHS to move forward with a new building
2013
* October 2013 - County Commissioners meets to discuss moving land for shelter from one side of the Strafford County Courthouse to the other. CLICK HERE to read the story.
* June 2013 - CVHS unveils drawings and model of proposed new facility at Tails for Trails dog walk
2012
* November 10th, 2012 - Received commitment of services and supplies from Central Paint of Dover, NH.
* Land survey completed by McEneaney Survey Associates from Dover, NH.
* Working with Stewart Associates Architects, LLC from Laconia, NH on a building design.
* September 4th, 2012
- CVHS signs the intent to lease a new piece of land with Strafford County. This land is located in the Strafford County Complex.
CLICK HERE
to read more.