| | |
| --- | --- |
| | Doggie Kissing Booth |
Here's where you'll find the Kissing Dogs in 2010:
Saturday, June 19th at Children's Festival in Somersworth
Saturday, July 10th at Summer Sun & Fun Craft Festival in Barrington


We are sad to say good-bye to Oliver
Oliver peacefully passed away in his sleep Monday April 5, 2010 following the rapid onset of an unexpected illness.  
Oliver was born on May 12, 2008 in an unassuming whelping pen in Maine, one of a litter including four boys and four girls, and son of Babooshka.  Not the largest of the litter but certainly one with the largest head for which his canine mother still slightly holds a grudge for.  Oliver spent his very early days with his canine family and at around 3 ½ months of age moved to Portsmouth and joined our family.  He was a most adorable puppy; all head and wrinkles and a gorgeous soft coat the color of peanut butter.  He was a very goofy and affectionate little boy who was quickly bonded into my heart and became my little brown shadow.   
Oliver was a stellar student graduating among the top of his puppy class and quickly advancing to learning how to unlatch the outside door to escape from the house.  He greatly enjoyed a good game of tug or wrestling with his human mama or his canine step-sister, and had a great passion for literally tasting every part of life for which unfortunately was his downfall.  Above all else Oliver's greatest passion was being by my side and it is this that I adored most about him.  Always ready for a snuggle and to give out a few kisses, he was a truly wonderful blend of comic goofball and compassionate companion. 
He was also very civic minded, graciously volunteering his time with the Cocheco Valley Humane Society as a "Kissing Dog".  Oliver very happily assisted the CVHS shelter in their fund-raising efforts donating kisses to many kids of all ages throughout each of his Kissing Booth shifts and had a following of repeat kissees who often requested to know when he would be in the booth.  Oliver greatly loved meeting new acquaintances and felt it was important to do what he could to help provide a better life for other dogs who weren't born into such fortunate circumstances. 
 Oliver is survived by his human mama who loves him deeply and misses his daily wet-willy wake-ups.  He also leaves behind his canine step-sister, Jada, who is looking for her playmate, his human Grandma and Grandpa whose farm he loved to romp around all over off-lease, his canine mama Babooshka, brothers Brimley, Rahjan, and Tiger, sisters Hazel, Sadie, and Roxy and many loved human aunts and uncles.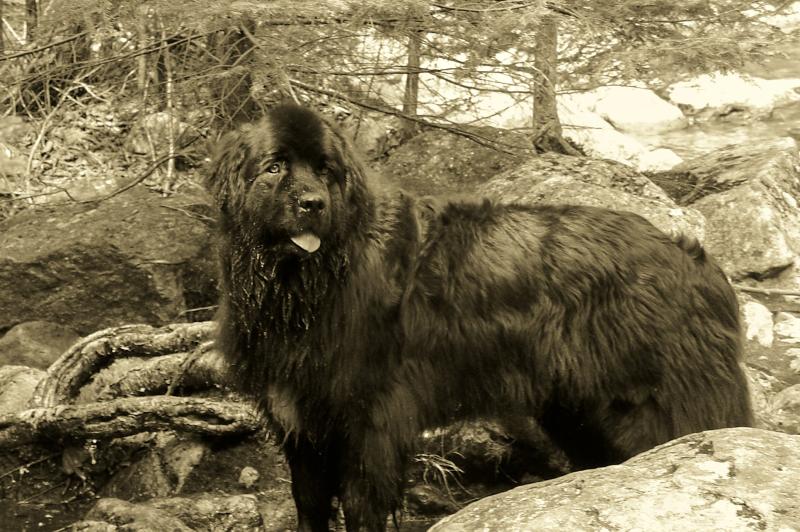 Hunter
A wonderful Newfie who was the first Kissing Dog
and the inspiration for the Doggie Kissing Booth
August 21, 1999 - March 14, 2009